Sewn U.S. Flag Polyester Durable Outdoor Flag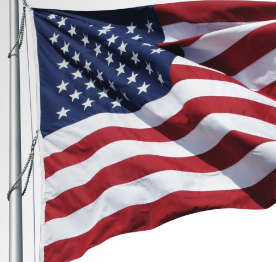 Sewn U.S. Flag Polyester Durable Outdoor Flag
Our Polyester flags are ideal for high wind areas and commercial applications. The open weave construction reduces wind resistance, increasing flag life.
The flags are constructed using 2 ply polyester bunting and finished with white poly-cotton header with brass grommets. Embroidered stars (not printed) add a touch of class. 

8x12 flags or larger come with rope thimble and heavy duty plastic reinforcement sleeve at each grommet. 
MADE IN USA 
(Also available for special order: larger sizes or polyester flags with additional zig-zag stitching reinforcement. Allow 3-4 week lead time on special orders. Call today!)